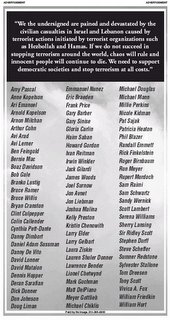 Real Clear Politics links to this article about Nicole Kidman
and 84 other Hollywood celebrities who have signed up against terrorism in a full-page LA Times ad. I find it highly encouraging that 84 tinsel town supporters of our fight against the terrorists are willing to go public.
The list includes such stellar names as actor Bruce Willis (one of my favorites, anyway), and director Ridley Scott. Any Hollywood name willing to speak out against the Islamo-fascists deserves full movie-going support. I'm going to study the complete list and plan my entertainment viewing accordingly.
UPDATE 8/17
: A loyal reader sent me a scan of the ad, posted to the left. Thanks, Rick!